My buddy Tommy Doyle works at SSHD. His wife Paula gave me the heads up on this very special event going on the week before the Super Bowl here in Indy. Southside is the oldest dealership in Indiana. In the mid-90s they moved out to the suburbs and a modern facility. Before that they were right downtown just a few blocks from Lucas Oil Stadium where the 2012 Super Bowl will be played.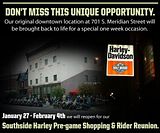 More info
here
I've driven by for years marveling at the old signs still in the window. A few months ago I shot some pics of Ichiro's 1937 flattie bobber using the storefront as a backdrop.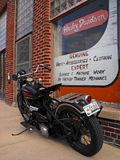 Im not a new bike guy but I am stoked about getting a chance to soak up some Indy motorcycle heritage!