I took advantage of the unseasonably warm weather to work on the Sporty and take some snaps...
Relocated the coil to clean up the space between the tank and the front cylinder:
Said goodbye to unsightly right side battery/oil tank area: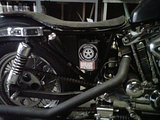 Notched out a '79 cover, stripped and primed for a dry fit: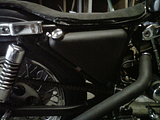 Still need to make some mounting brackets and maybe do some more file work around the filler neck then paint it gloss black lacquer: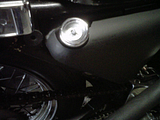 It is supposed to be in the high 50s all week so I should be able to get the last bit of electrical work done. Now, if my former employer would just send my tax forms I could get my refund and go nuts with my J&P Wishlist. Patience was never my strong suit.