When I pulled off the primary cover I found that one of the ears where the clutch paw inserts into the outer ramp was snapped off completely.
No big whoop, I ordered a new kit and popped it in for an easy press fit.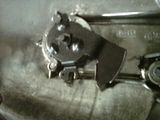 I put the whole mess back together, adjusted the cable and NOTHING. The clutch would not move at all. I pulled the clutch out, and just as I suspected, the discs were frozen together. I thought maybe I could seperate them with some brake cleaner. But they fell apart in my hands.
What a mess.
A buddy with a loaner clutch pack couldn't put his hands on the parts. So, another weekend ends with the Sporty still on the lift. I will order a set of fiber discs on Tuesday when I get paid, $30 online. Ce la vie... I guess it will all come together when it is meant to.
In positive news, it looks like I will be selling GKM at
Hotrods And Hillbillies
on
July 30th and I got a bitchin new key ring.