This week I was able to get over some major hurdles to completion. The biggest thing was that the snap ring in the rear hub kept popping out. Upon inspection I realized that there was a little less than 1/4" gap between the outer washer and the inner bearing retainer. I cut a ring out of rubber gasket material, then two more out of paper gasket material. I soaked them in silicone spray and put it all together. The snap ring stayed in place when I put the wheel back into the swing arm. What a relief.
I got the tail light mounted to the rear fender and wired after making a license plate bracket, then attached the assembly with the struts. I also covered the seat in two layers of dense foam, minimalist but it will do until I can afford to get a ribbed cover ala a Schwinn Stingray.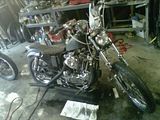 I put the sprocket cover back on after soaking the chain in WD-40. It was rather stiff and grimy. But it seems to be working fine now. I contemplated cutting the sprocket cover for more of a 60s Ironhead look. But time is a wasting, so I will leave that for later. After all this is just meant to be a rideable rub thru for the summer.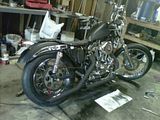 I put the pipes in place but haven't attached them. The rear pipe isn't quite clearing the foot peg bracket, so I will have to give it a little coercion. I need to do some minor alteration to get the generic air cleaner base to fit too. New oil lines should'nt take long. I will be happy to ditch the ugly braided crap. After that all I have left to do is to process the title work and replace the broken clutch acutator. Both require money and I am still a little broke after my West Coast trip. No matter, this summer continues hum along in awesome fashion. I am getting pretty excited. Once this bad black bitch in on the road I'm gonna ride, ride, ride!!!