Well, another summer has passed without my BSA chopper on the road.
I am NOT a fabricator, and I'm a horrible mechanic. I barely have a garage. I probably shouldnt have bought such a basket case. It came with a crapped out girder front end and no title. The price was ridiculously cheap ($300)and I really wanted a bike. But that was five years ago!
My friends went from offering help, to giving me shit, to shaking their heads in disgust. They all know better than to ask now.
It's a neat bike though: 66-68 BSA Lightning A65 stock (as far as I know) mill with Boyer ignition, twin Amals, stock frame with a hardtail and HD size neck, Sporty gas tank, HD rear wheel, Avon rear tire, flat fender, Octagon oil tank, Sparto tail light, Honda CB 750 front end, Jay Hart 7/8" stainless Z-bars and upholstery by me. I used an exercise bike seat pan with chrome springs and made my own minimalist p-pad. I painted it all by myself with rattle can laquer from Pep Boys and lots of wet sanding.
Personally I've been through a marriage, birth of a child, divorce, bankruptcy, job changes and multiple moves. My little 650 has been plagued with problems all along too. It has been stashed in no less than 6 different garages. The carbs were a leaky nightmare, rejetted and rebuilt by me. I had the fuel lines routed all wrong. The wiring was a clusterfuck. I've redone that at least twice. The front end has never been right. It sticks. I had Timken bearings altered to fit the HD cups OD with the Honda stem ID, no fork stops. The brake caliper is frozen solid.
To get it on the road I need to reroute fuel lines, change out the front end (I'm picking up 39mm Sportster forks this weekend and bidding on a 21" Akront rim with a drum brake). I need to get it titled, insured and registered. Other than some minor tweaking that should be it. At some point the frame should be blasted and have extra holes filled in. Who knows if it's cracked or not. The bars need to be narrowed. I'd also like to repaint the tins basic black, reupholster with red flake vinyl, lengthen the pipes and have a mid height sissy bar made. Easy peezee, right?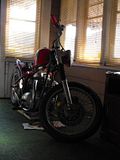 My Honda is reliable, no muss, no fuss. But I'd really like a proper big bike chopper, probably a shovel or 1200 ironhead. If I go that route it will be a running bike that needs styling, NOT a complete rebuild. I'm going to give the BSA one last try over the winter. If it's not on the road by next May I will sell it.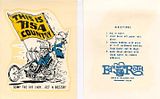 Beezers forever, or not.