I have a lot of luck at The Bargersville Flea Market. I got the groovy 70s sparkle helmet mentioned in a previous post. I've also seen great deals on tools, firearms and records. Not only do flea markets have great low, low prices but the selection is often pleasantly surprising.
Take for example this Airline hollowbody guitar.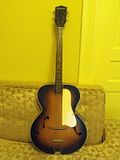 Airline was the brand name under which Montgomery Ward department stores sold Hi-Fi equipment and electric instruments.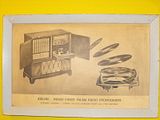 Manufactured by Valco the quality was decent enough and priced with the student in mind. Fit, finish and playability were nowhere near a Gibson or even a Fender. Though they did make higher end models such as the red and white Res-O-Glass model played most famously by Jack White. LOT'S of 60s garage rock was banged out on cheapo Harmony, Kay, National and Airline guitars with a Fuzzface pedal through a Silvertone tube amp. Love that. But I digress.
I paid $14 for this gem. The guy was asking $20 but I had bought the kids a lemon shake up and ice cream so my wallet was lightened. Some hillbilly had tried to turn it into a five string banjo. He shaved 1/4" off the treble side of the neck with a bandsaw. The bass side was missing 3/8" with a banjo tuner at the 5th fret.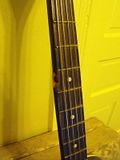 The neck was reasonably straight and the original Kluson tuners were intact.
It was a bargain.
To start off I removed the original fret board with painted dot marker. I had an extra fret board which I glued into place using a straight edge and clamps. A plastic nut replaced the cut down bone original. I filled in the gaps with bondo.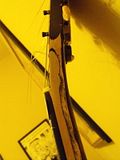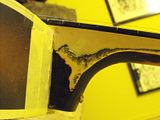 The gap between the fret board and the top of guitar was filled in with paint stirrers.
I made sure to make it all square by snapping a chalk line from the bottom to the top.
Once the glue dried I got to work routing the top for a single humbucker at the neck. I ran into a problem with the top bracing. So, I reinforced the opening with
1/4" paint stirrers and Gorilla Glue.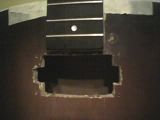 I wired in the pickup using a self contained chome volume/tone thingie and a 1/4" jack.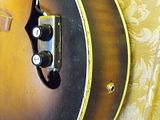 From there I masked off the neck and hit it with some rattle can black. I touched up dings and chips with a black sharpie. After the paint hardens up I will wet sand the neck to blend it with the original paint and hand buff the entire guitar while retaining the patina and original markings.
Unfortunately the original pickguard disintegrated when I tried to route it for the pickup. Eventually I will make a new one using the old pickguard as a template.
I strung it up with flatwounds and plugged it in. Amazingly it worked on the first try. After rewiring a dozen guitars I finally got one right. The cheapo humbucker HONKS like Ike Turner's guitar from Rocket 88.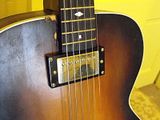 Aside from a few cosmetic touches I am pretty happy with it, and it only cost me $14 and a couple hours of my time.
I dig it.