One of my very most favorite things to do is go digging for records in junk shops, thrift stores and flea markets. I have a secret spot on the other side of town I kept meaning to get back to but could never find the time. On a previous visit I noticed piles and piles of vinyl. It was such an obscure and dank place that it was almost virgin territory. Earlier in the summer I had scored a Herman Miller Aluminum Group chair designed by Charles Eames as well as a Big E Levi's jacket and a Ben Sherman knockoff button down shirt. I got all 3 and some other assorted baubles for less than $20. On Saturday I finally went back to sift through the records. It wasn't exactly a goldmine but it was definately time well spent.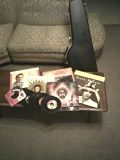 A quick run down:
Albums
Ray Price's Greatest Hits-Columbia
Loretta Lynn's Greatest Hits-Decca
Richard Pryor-The Wizard Of Comedy-Laff
Chilling, Thrilling Sounds Of The Haunted House-Disneyland
Steve Martin-Lets Get Small-Warner
Steve Martin-Comedy Isn't Pretty-Warner
45s
Johnny Nash-You Got Soul/Dont Cry-JAD
Ricky Nelson-Just A Little Too Much/Sweeter Than You-Imperial
Ricky Nelson-Teen Age Idol/I've Got My Eyes On You-Imperial
Rick Nelson-That's All She Wrote/For You-Decca
James Brown and his Famous Flames-America Is My Home pts. 1&2-King
James Brown and his Famous Flames-???/Is It Yes Or Is It No-King
Sue Thompson-Never Love Again/Norman-Hickory
Paul Revere and the Raiders-I Don't Know/Let Me-Columbia
Roger Miller-Chug A Lug/Reincarnation-Smash
The Champs-Limbo Rock/Tequila Twist
The Box Tops-Soul Deep/Happy Song
I also got a Fender "thermometer" style hard shell guitar case.
I paid $19.26 for all of it, tax included.
Sunday morning I had breakfast at the Steer Inn with my friends Lori Baumgarten and Eric Smith. Eric and I have collaborated on some T-shirt ideas. He pays the bills as a graphic designer for International Tattoo Art as well as The Indianapolis Star. But his original art work is quite impressive. He layed both of these on me gratis.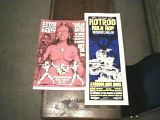 I also got some time to work on a new guitar project AND a new band project. But I'll leave those until later...