I spied this beauty along a back country road the other day.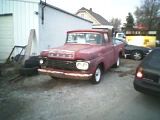 It looks to be a running '58 or '59 F-100, styleside, shortbed. It has a monster 426 motor and automatic transmisson. Though I have a 302/AOD combo ready to drop in that would be much kinder on the gas. I've been wanting to buy a pre-66 Ford truck to replace my 88' F-150 and/or 51' F-1 trucks. With a 1.8 liter motor it's impossible to haul anything beyond groceries and kids in my daily driver '98 Escort wagon. Forget about pulling a trailer or transporting my bike.
I just called and left a message. But I am already daydreaming about a rattle can flat black paint job and lowering kit. Moon discs, wide whitewalls and straight pipes would follow on too. If the price is right I may buy it as a Christmas present to myself. Thank goodness for unused vacation pay.