My friend Kim gave me this sweet belt buckle for my birthday. She is originally from the Denver area. Her parents rode bikes in the 70s and frequented Free Tomorrow, but she had no other info. I love the stylized Avon Speedmaster tyre on a spoked wheel with the groovy script cast in heavy brass.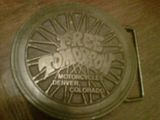 I want to use this as points cover or on a tool bag for my Sporty. But I wanted to be sure the place wasn't run by some child molester or douche lord.
The address on the back is currently the home of a medical marijuana dispensary, no joke:
4900 W 46th Ave
Denver, CO 80212
Even after searching around on the the web I wasn't able to turn up anything about the shop. So naturally I asked the Rocky Mountain Wrench himself. Irish Rich came through with the straight dope:
Eric,
I remember Free Tomorrow motorcycle shop, I used to buy parts there. It was on 45th Ave., just a couple blocks east of Sheridan Blvd., right by Lakeside Amusement Park. I knew Jack Fisher and Kenny Conway (the guys that owned it) very well. Matter of fact, I see Kenny off and on around town still. Kenny had his own shop for awhile, then managed a couple more custom shops in town.

It was around in the '70's, then Jack and Kenny closed it up, and Jack went off tattooing in a school bus. I heard that somebody blew the top of his head off in the 80's sometime, over some shady deal.

Hope this helps you out.

Regards, Rich
Righteous compadres are better than a Google search any day...