SOLD!!! to Mike V. Now, if I could unload my Land Rover I could afford to pickup that cheapo local 69 slabside shovel motor...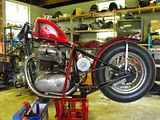 I'd really like to start pulling together the big twin of my dreams, preferably a Pan/Shovel. I have a lot of sentimental attachment to this bike. But I cant really justify having another mid-size project waiting in the wings. I have had it too long without it being finished and running. It's a neat bike for someone with the time and skills to turn it from a project to righteous running chop.
Here's the poop:
BSA Lightning with smoothie style valve cover
Amal carbs with new gaskets and .120 jets, cleaned and well gone over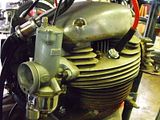 Cut down stock shortie pipes
Boyer Brandsen/Tympanium ignition
BSA frame with weld on hardtail and 7 1/4 neck with HD size Timken bearing races
12 volt coil
16" rear wheel, probably Honda
Avon Speedmaster rear tyre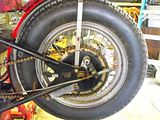 Flat rear fender
Sparto tail light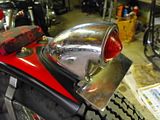 Custom upholstery by me
Octagon oil tank
Sportster fuel tank with vintage swap meet cap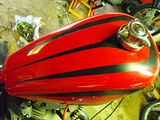 New clutch cable
Good numbers, no title. It is very easy to get a lost title in Indiana.
No front end-I took off the CB750 forks to put on The Silver Machine. But I will throw in a set of thrashed Showas off an XS 650 and a 19 Honda wheel with disc brake set up.
Free to a good home for the first person to show up with $1000 cash, firm, no trades. Email tiptopdadddy@aol.com