Got most of the wiring done today.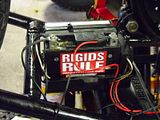 The Boyer/Tympanium system is pretty straight forward. I printed off a very helpful color coded diagram from the JJ. Routing the wires, soldering and shrink wrapping the connections takes a fair bit of time, but doing it right always pays dividends down the line.
All that is left is to hook up the lights and ignition switch.
I made a brake stay from $5.00 Harbor Freight tire iron. With the high price of metal it was an economical choice. It is rust resistant, cast tool steel and will stand up to lots of abuse.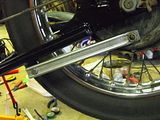 I may shorten it an inch or two.
Slapped on my Jay Hart Z-bars.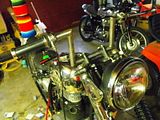 I am really close to being done. I won't have to fiddle with the timing since the Boyer should set itself. Put on the carbs, run fuel lines, add fluids and roll it. I need to add fork stops at some point too.
The last major chore will be to cobble together an exhaust. The fishtails are more "period", but like choice of tail light (Lucas vs. Chevy), the megaphones really speak to me. I like to go with my instinct.
What's your opinion?