I gotta be nuts to buy parts and pieces for another project. I swore I'd never do it again. But I just cant pass up "a good deal".
My homie Jeremiah picked this up for me. The deal was for $100. He kept a very desirable 21" Chinese tire on an alloy wheel with a drum brake, less guts, and a 16" Goodyear tire on an HD wheel.
The frame is (was) a Paughco Ground Pounder frame, or at least that's what the hillbilly who sold it to him said.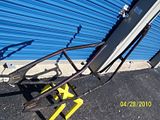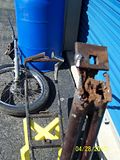 The center post, backbone and neck are gone. That said, I'm hoping to get it massaged into a stockish frame someday. We'll see...