Today I braved the cold to strip off some parts from my CB750. The plan was to remove the fenders and tail light bracket, have the chrome blasted off then have them, the tank, headlight bucket and side covers all painted basic black. I also removed the stock bars to be replaced with clubmans as well as the stock directional lights in favor of mini bullets. Aside from replacing the cracked original Dunlop tyre with a new T110, recovering the seat and cleaning up the accumulated dirt and grime my vision was to give my old Honda some freshening up. I was not planning on doing an entire frame off rebuild. But upon removing the gas tank I found this.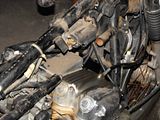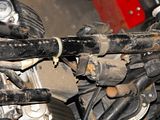 Some numbnuts took a sawzall to the upper frame rails to facilitate removing the engine to install the big bore kit. I should of caught this before I bought it, but I didnt. Now I'm in more than a bit of a shit pickle. I will consult some of my local pals for their input. But I might as well do a complete tear down now while I get the frame fixed and replace the swing arm bushings, grind off tabs, etc.
My daily ride just became a project. SHIT.