I picked up this large size Arthur Fulmer AF50 helmet at the Martinsville swap meet for $5 last summer.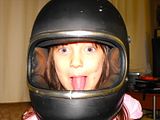 It has seen better days; the liner was falling apart and though still intact it was badly scuffed. But with my hard to fit big melon head and the availability of helmet relining services like Hel-Mutts and Justified Defiance it was the vintage brain bucket of tight budget dreams.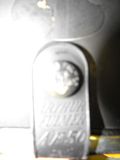 After wearing it on a a couple rides I got a bug to try relining it myself. How hard could it be? I got together my supplies and went to work.
Bondo
Sand Paper, Several Grades
Scotch Brite pad
Primer
Construction Adhesive
Headliner Adhesive
Lining Material
Masking Tape
I removed the old liner and saved the foam rubber.
Then I put it back together to see how it all fit.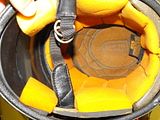 I sanded off the flat black paint and filled in the gouges with bondo, then finish sanded it like I would a fender or body panel.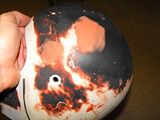 Unfortunately I couldn't salvage the original AF tag or "DOT Approved" sticker.
After I masked off the chin strap I sprayed on 3 coats of flat black primer.
I cut the bandana material using the foam rubber as a guide allowing for some extra material to wrap around the back side. After a quick dry fit I affixed it with the headliner glue. Then I reglued everything in place with construction adhesive.
I put the trim pieces back in place...ET VOILA!
It didnt come out perfect, but it was better than I expected. One word of caution if you try this at home, go easy with the headliner glue as it tends to bleed through. At some point I will probably redo it with brand new foam.
Nate Spainhower has kindly offered to paint it for me so stay tuned for part 2.