My girlfriend is in the process of buying a new house. It's a four bedroom affair built in 1901 with a big (mostly) dry basement, great school district, perfect for her business and kids. But the seller is being pretty stubborn about fixing some things and coming down off his selling price.
Out back in the 2 car garage there is a crapped out shovelhead (reminds me of my horsetrading hillbilly grandpa's early Sportster that sat behind the garage for years after he died and eventually was thrown away by my grandma, but that's another story). It looks to be a 70s FLH that has been sitting in a barn (or outside) for several years, if not decades. The chrome is rusted and pitted, alloy is oxidized and the rear drum brake completely frozen. He started stripping off the sheet metal, bars, pegs, brake caliper, etc. I'm not sure if the motor turns over, but my guess would be it is stuck too. No clue if there is a title (lost titles are not a big deal in Indiana). Cash value is maybe $1500-2000.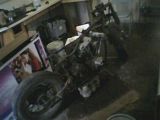 My suggestion is that the owner leave it, along with the new riding mower, to make up for some problems that came up in the inspection. He'd be a fool not to go for it rather than come out of pocket for money he obviously doesnt have. We shall see...