My friend Kipp gave me a stack of Diamond Chain Company employee newsletters from the 50s thru 70s called "The Chain Gang". I've driven by the factory for years but assumed incorrectly they made log chains. In fact Diamond is the manufacturer high quality roller chains for many industrial applications, timing chains and primary and final drives for motorcylces.
Diamond started off making bicycle chains in 1892. Two Hoosier bicycle mechanics used a Diamond chain in their first successful heavier than air flying machine, maybe you've heard about it:
The design and layout of the Chain Gang mags are out of sight; informational, inspirational and even beautiful: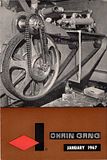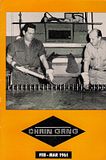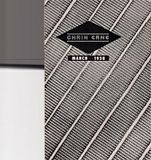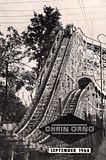 It would be my guess that Diamond Chain Company is not a union shop which might explain their continued profitability. Especially poignent are some of the political messages included in the publications, very timely for our age: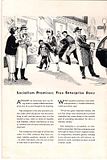 Diamond sponsors flat tracker Kyle Long of Plainfield, IN on his H-D KR 750 using their 520 XLO O-ring chain, http://www.diamondchain.com/products/pro_motorcyclechain.php
Most people, even citizens, arent aware that Indianapolis has a long rich history of auto manufacturing and innovation second only to Detroit. The Indianapolis Motor Speedway was originally built as a test track for makes such as Lexington, Cole, Dusenburg, Marmon and Stutz. The founders of IMS were (L-R) Arthur Newby owner of Diamond Chain and National Car Company, Frank Wheeler of Wheeler-Schebler Carburetor, the legendary Carl Fisher and James Allison founder of Allison Transmission.
I love stumbling across the forgotten pieces of my city's automotive, motorcycle and racing glory. Diamond Chain is yet another living link, no pun intended.