Sorry I've been out of touch. I went to Denver to visit one of my very best pals in the whole world Hank Hays.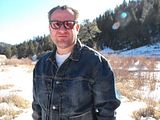 He lives in Sedalia, CO a little whistle stop town right at the base of the Rocky Mountains.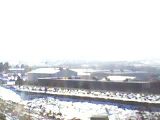 We went up into the mountains to Pike National Forest and the Platte River Basin. It was beautiful.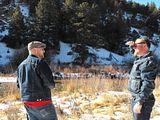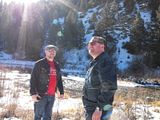 My visit was short. We didnt get to go to Arapahoe Acres or do a couple other things on my agenda. I tried to visit Irish Rich but he was unfortunately out of town. But I did smoke him out only to hear his dobermans barking.
We visited Red Rocks. I was amazed that it was completely open, anybody could walk in.

The highlight or my trip was playing a couple gigs with Hank's band, Ethyl and The Regulars. I was completely blown away by the crowd at Club Corner singing along with me while I sang Canada Dry.
[URL=http://s47.photobucket.com/albums/f168/tiptopdadddy/?action=view&current=ethyl.jpg][IMG]http://i47.photobucket.com/albums/f168/tiptopdadddy/th_ethyl.jpg[/IMG][/URL]
I miss having my homie Hank around. It was great to see him, if only for a couple days.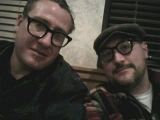 I came back to my 50 hour plus weeks at my job.
Then we got walloped by 12 inches of snow. I was stranded for 2 days in a marshmallow world of white death. Today I got held up by some guy that flipped his car on the highway.
The 1st month of 2009 was great. Here's to the new year, I love my life!