I have been on an emotional rollercoaster for the last 72 hours. On Friday morning my mom called to tell me that my grandma Lulu would probably not make it through to the end of the weekend. She had been struggling health wise for the last year and a half, the last 6 months being the roughest. It was hard to watch the toll on my family, but even harder to watch Lulu slip away. She had always been so vivacious. Pistol, live wire, spark plug and fire cracker were all apt names to describe her. But beneath her energetic exterior she had a heart of gold. Lulu was a very special woman, and I doubt she was ever conscious of what an inspiring life she lived.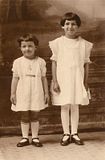 (Young Voleta with her sister Mildred in Missori, ca. 1920)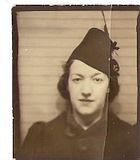 (Recent high school graduate and ready to go to work for General Motors, ca. 1937)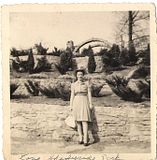 (In the Chinese Gardens at Shadyside Park in Anderson, Indiana while my grandpa was away at war) She came of age during the Great Depression, worked in the defense plants during WWII, and then started a family with grandpa when he returned from the war. They also started several businesses together; raised chickens and sold eggs, built and rented roadside cabins, started a trailer park with a store and laundromat, and even manufactured their own truck caps. They also began their most successful venture, the RV dealership that my parents now own. She did all of that while my grandpa worked 2nd shift at GM and she was raising four children. Despite all of those accomplishments, she remained generous and kind hearted to all that knew her. But she was always ready with a sharp tongue for anybody who mistook her for a pushover. All of that was barely contained in a 5 foot tall package topped with red hair that faded to snow white by the time I was out of elementary school.
(That's me, her first grandchild and the person who dubbed her Lulu)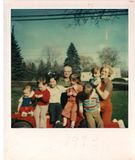 (Lulu and Grandpa with their grand kids on a go cart I must have wrecked 50 times, no helmet of course)
(My very favorite picture of my grandparents, grandpa home on leave before embarking to Europe) Lulu's love didn't hinge on talking about feelings. She showed her devotion in ways that a person with younger grandparents would most likely miss. About a year ago after we had moved her into her new apartment she told me a story that I had never heard. She was out of town several hours away when my pregnant mom was admitted to the hospital. So she hit the road and drove 100mph all the way back to Anderson to make sure she wouldn't miss my birth. Like solid bedrock down deep I always knew that Lulu would be there. Not once do I ever remember feeling scared or anxious with her during my childhood. I will forever miss her cooking and all of the get-togethers she orchestrated. Lulu's home was always welcoming to family and friends. It could be a quiet place with just her and I sharing popcorn cooked on the stove top and a can of Pepsi, a happy family meal during the holidays with the sound of her humming electric knife slicing through a big baked ham over an oven of chicken dumplings, eating fried catfish and hush puppies under the big pine tree in the front yard during the summer, or a roaring weekend party with all of her old friends smoking Pall Malls and mixing cocktails. My grandpa was the personable BSer, but my grandma was the one who brought everyone together. Anyone who met "Ma and Pa" once was always happy to see them again; they were a magnetic couple and inseparable for 47 years. My grandpa died in 1983 and Lulu was single for 27 years. She sold her business interests and started a new life on her own. She made new friends, traveled, volunteered, bowled and lived of her own choosing. After everything, she had earned it. Lulu passed away quietly Saturday morning in the care of my Aunt Linda. It was sweet release and in a way it makes me happy to know that her suffering is over. I can't understate what a huge impact her love and presence had on my life. I was very blessed to have Lulu as my role model for what a woman should be; mother, wife, grandmother, entrepreneur, friend and sometimes even a smarty pants and a hard case. She made a lot of sacrifices that can still be felt by my children today. More than all of that she wasn't just my grandma, she also inspired me, she was my hero and I will miss her very, very much. I love you Lulu. RIP, Voleta Frances Heimer Kinsey (1918-2012)