I had an almost full day to work in the garage today. I got the Honda put back together and fired. Miraculously the dash lights started working. Un-miraculously the carbs are STILL totally fucked. I used new boots with wide clamps. But to no avail, the motor races like it did before as if it has an air leak. Ugh, I'm about ready to sell the damn thing and let another guy have a crack at it.
The Sporty contiues to take shape nicely. I decided to try a new strategy; start at the front and work my way back.
The angle on the pinch bolt bracket wasn't working with the dual ring headlight. So, I painted the aluminum eybrow Crazy Orange style and reattached the stock set up.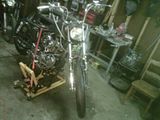 I rewired the stock controls, wrapped the wires in friction tape and put on the Jack Hammer grips.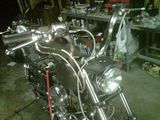 I'm pretty stoked with my progress, even if I am a little behind schedule. It's all coming together just as I had envisioned; a rideable, traditional mild custom with some Japanese influences. Right on...