In a previous post I showed you how to reline a vintage helmet using my $5 swap meet find Arthur Fulmer AF50 helmet. Nate Spainhower offered me a gratis custom paint job. He asked me what I wanted. I replied, "Oh, you know some kind of pop/psyche deal, but nothing too gay either". All I can say is that I was in no way prepared for the groovy results. WOW.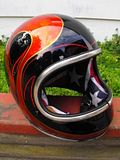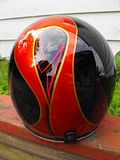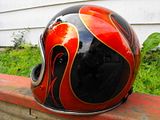 There is a lot of detail that pictures dont do justice, like the mid coat rainbow sparkle applied over the black. I ran into an Icon (crotch rocket inspired clothing line) rep at the biker night down the street. She said, "Come see me when you want a
real
helmet". HA! Don't mind if I don't. My new lid RULES!