"Dave Martinez isn't an upholsterer, he is a fucking ARTIST!", said Roy Caruthers via text. My curiosity aroused I went to see for myself. And you know what? By God, Roy was right!!!
Lookee here: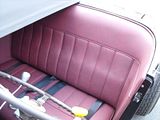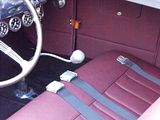 The phenomenally talented Dave Martinez is another Hoosier boy who is getting national exposure for his high quality craftsmanship. Soon he will be pulling up stakes and moving to Long Beach, California.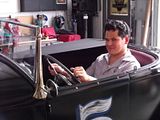 Over one week he fashioned all new trim work for Roy Caruthers' '30 Model A on deuce rails. Upgrades included carpet, tuck and roll bench seat with wrap around back and sides, door panels with map pockets, kick panels with speaker covers fabbed from scratch, and trunk panels with a lighted vertical mail slot window for the low tech fuel gauge all in ox blood leather. These pics caught the half done lakes style tonneau cover. The driver's side will have a neat bump out for the steering wheel.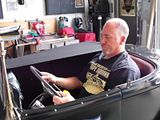 Long time readers of greasykulutre.com will remember Roy's 100ci Evo chopper. His No. 5 roadster continues to evolve setting the bar with race inspired slickness. Last year Roy hand built and dropped in a stroked and bored flattie with domed pistons and hi-comp heads. This years addition is trim work. Next year he plans have the entire front suspension nickel plated. Can't wait to see that.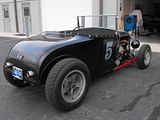 A tip of the hat to Misters Caruthers and Martinez, well done sirs!