My friend Nate Spainhower is a multimedia star. Not only is he an ace custom bike painter whose work has been seen in some high profile mainstream bike rags, but he works at Anchor Recording Studio, is the drummer for Deathtrap and has appeared on a couple episodes of Biker Buildoff. He was also featured in Greasy Kulture Magazine issue #3 with his Model A Tudor. Nate very simply does not get enough recognition for his talents. But I'm working on that.
I recently shot his new bike, The Wizard Sleeze, a Yamaha XS 650 chop in a custom Ardcore rigid frame with a Sportster front end. I really dig the the overall vibe of the bike, especially the unique bars and foot pegs. The clear powdercoated frame playing off the Pagan Gold paint, minimal chrome and polished aluminum is killer diller. Look for an upcoming feature in GKM very soon.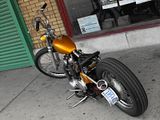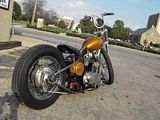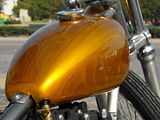 We shot these pics at 38th and Illinois Streets in Indianapolis near The Melody Inn on a picturesque, lazy early Fall afternoon. Incidentally, there was a robbery and shooting in the same block less than a week later. Fun stuff.