I haven't had much time for updates lately with work and kids. But I did get the Sporty stripped down. All the big twin wannabe parts are ready for ebay. Last night I got the 35mm narrow glide with dual disc brakes mocked up.
I am waiting for the 21" wheel and 2nd brake rotor. Those should materialize this weekend. Aside from bars, risers, grips and pegs I have all of my other parts gathered. That will leave only cleaning, paint, tire mounting and some minor fabrication. Next weekend I may drive over to Dayton to pick up some bars from Front Street and shoot some pics. Sectioning the rear fender 2 inches and figuring out the tail light/plate mounting will be done at Jay Hart's gay-rage as time permits.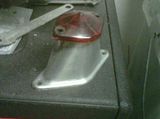 I have an idea for some rad pipes but I will wait until I have it on the road and shaken down. After assembly is done it will be lots of general tweaking and final trouble shooting. Progress is slow, but proceeding according to plan.
Now if I can only get the Honda to cooperate and play the role of daily rider until I get the Sporty done...