I bought this frame from a buddy last summer.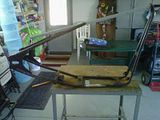 It came with a 16" rear wheel, 21" front with a mini drum sans guts, a set of crapped out Yamaha forks and a few other bits and pieces for $80. My buddy kept a decent Speed Grip that I later got in another trade. Mostly, it was a big pile of crap. Most of my friends either scoffed at putting it back together or urged me to cut off the tail section.
But there was something about it that told me it was worth resurrecting. The axle plates and bead level on the welds were a giveaway that it was from the early chopper era.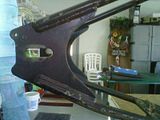 The square center post threw me off too. It seemed like it was a newer addition, but the weld bead seemed to match.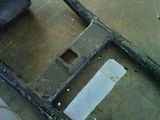 I had a vague idea that maybe it was an Amen rigid, but I couldn't find any pictures to support my hypothesis. The more dead ends I hit the more I was convinced it was something special. A pal suggested I post it on the JJ (Thanks Guy!) and I got a hit almost immediately.
As it turns out it is a Smith Brothers and Fetrow (SB&F) model called "The Frame".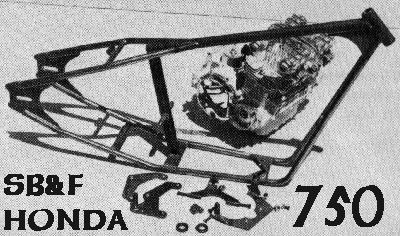 It was an early design by Donnie Smith (yeah, that Donnie Smith)as an extension of their drag racing team.
The Frame was made to accommodate 5 different motors and came with different sets of mounting plates.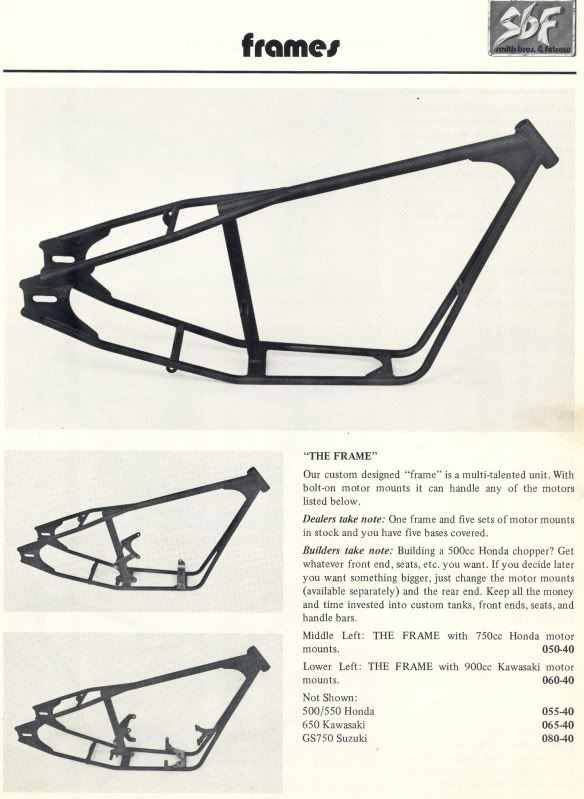 It is a low slung, handsome design that yields striking results,
I am pretty stoked that I made such a find. Now that I've established the pedigree I've got some interest in help to get it back to the original geometry. My plan is to use a 35mm Sportster front end with a 21" mx wheel and drum brake, an original Mustang tank and a monster XS mill. It will be a great winter project.